Have you ever looked at a manufacturing process and thought, "When was that process developed?"
I had that moment looking at a set of ailerons for a
Seversky AT-12 Guardsman
at
Planes of Fame Air Museum
, where I volunteer on the weekends.
The Seversky AT-12 Guardsman at Planes of Fame
Stripped of the fabric that normally, covers them, I had a rare opportunity to see the structure beneath.
Typically Structures of the era would be made of wood, or riveted aluminum like the images below.
An example of riveted aluminum.
A typical aluminum control surface.
This is in the process of being recovered in fabric.
Instead, these structures were made of welded stainless steel that had been spot welded together.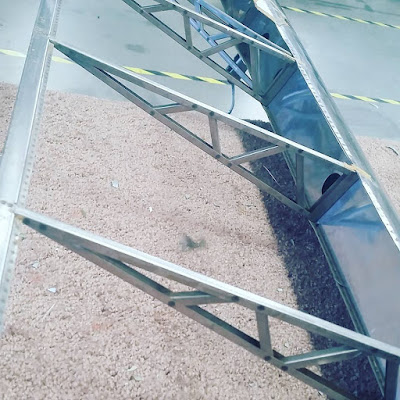 A close up of the stainless steel structure. The spot welds are the dark spots on the ribs.
And speaking of the era, the ailerons still bore their manufacturer's data plates. Built by Fleetwings, in 1940.
My curiosity piqued, I looked up the company on the internet.
I found that
Fleetwings
started in the mid 1920s, and pioneered the use of stainless steel in aircraft structures.
It seems that this set of ailerons represents a small milestone in manufacturing of aircraft structures. The use of stainless steel.
It's an interesting note in manufacturing history! All prompted by looking at a set of old ailerons.
With so many tools that we have, we can be better, faster, and more efficient. But don't forget to use those tools to be come something else.
Become more curious, and always keep learning!